Investor Relations Home
Upon written request, limited partners may receive free of charge a hard copy of the Partnership's Annual Report on Form 10-K (including complete audited financial statements). Requests should be communicated in writing to Investor Relations, at 7102 Commerce Way, Brentwood, TN 37027.
2019 K-1 tax packages are now available. Unit holders may access their 2019 tax information by selecting the Tax Information link on the left side of this webpage.
Corporate Profile
Delek Logistics Partners LP (NYSE: DKL), headquartered in Brentwood, Tennessee, is a growth-oriented publicly traded master limited partnership (MLP) formed by Delek US Holdings, Inc. (NYSE:DK) ("Delek") in 2012 to own, operate, acquire, and construct crude oil and refined products logistics and marketing assets.
A substantial majority of our existing assets are integral to the success of Delek's refining and marketing operations. We gather, transport and store crude oil and market, distribute, transport and store refined products in select regions of the southeastern United States and west Texas for Delek and third parties, primarily in support of Delek's refineries in Tyler, Texas and El Dorado, Arkansas. Learn more about our parent company at DelekUS.com.
Stock Quote
Change
Volume
52 Week High
52 Week Low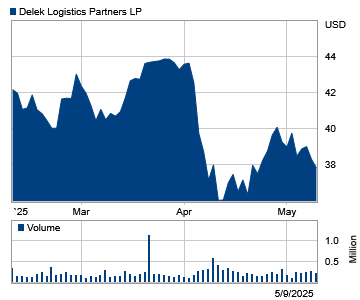 Data Provided by Refinitiv. Minimum 15 minutes delayed.
Investor Events
Aug 5, 2020 at 8:30 AM EDT
May 6, 2020 at 8:30 AM EDT